Just FYI: If you noticed I removed Baby Aiden's name from the Angel list on the sidebar, it is because I went to click on the blog, and it has been changed to "private". So I removed the link.
How YOU can help:
Visit
Cody's Crew
for two new ways to help: they are doing a balloon release for Cody on Friday, the 6th; you can purchase balloons online. They also have bracelets for sale.
PRAY:
Erica's
appointment is tomorrow. Pray for some good news!!
Please pray for
Avery
; she has been having some serious issues, and now they are suspecting a clot or bleeding on the brain. No results yet; keep praying!
Pray for
Reagan
to have less seizures at night so she and momma can get some sleep!!
Veiyah's
family needs our prayers.
NEW REQUESTS:
This is
"Little Bug"
; go check out her blog and pray for her as she goes through some tough times in the NICU. And for her new mommy and daddy!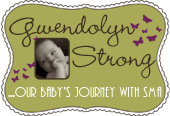 This is Gwendolyn, and she has SMA. Most SMA babies do not live past the age of 2, and she is 20 months. Please add her to your prayers!
PRAISE:
Brinley
had her central line removed today, and the surgery went great!
Bentley
is home!