Go
here
for an awesome testimony of God's faithfulness. He is a GOD of miracles!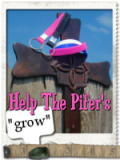 Go check out the brand new blog for the Pifer's!
PRAY:
Ashley
will be having a new central line put in on Monday morning. Let's start praying now that the procedure goes well!
Brinley
was admitted to the hospital today with an extremely high fever. Please pray for her! Post a comment for her momma, too, she is worried for her little girl.
"B" is now 41 weeks pregnant with little
April
. Please pray for her during this time, as her delivery quickly approaches, and that April's heart rate will remain steady.
Charity
had surgery today on her trachea; no update yet, keep her in your prayers.
PRAISE:
Dakota
had surgery today and everything went great! Keep praying that things go well so she can go home soon.
Camryn's
radiation treatments are going well! Pray for it to continue this way.
Bentley
has been discharged! Pray that her follow up goes well on Friday so they can go home.
NEW REQUEST:
Please pray for
Gabe
. He was born with an immune deficiency, called Severe Combined Immune Deficiency (SCID); (Bubble Boy Syndrome). Please add him to your prayers, and stop by and leave some encouragement.