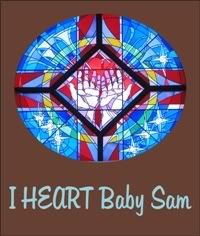 Here's a new button for
Baby Sam
! I posted it in the "Praying for Healing" column.
Pray for
Brinley
; she has been pretty sick and has been having a rough time.
Eden
is having some skin problems, pray for her infection to clear up.
Keep praying for
Gavin
, and also for his sister as he is still pretty sick.
Isaiah
had a minor surgery yesterday because of an infection, please pray for quick recovery and no more infection!
Prayers for
Kate
:
"Tomorrow (Monday) Kate goes to outpatient clinic to see how she is recovering. Please pray that her counts are good, and getting better. We definitely desire a good week at home before having to start the next round. Also, please pray for rest, as Kate is hooked up to a pump that feeds her all night long, and causes all of us a little less sleep. Lastly, I ask you to pray for protection for Kate from outside sickness. All of this talk about H1N1, and other viruses takes on a whole new threat level in terms of Kate's immunity, and our sanity."
Mikayla
needs prayers, her leukemia test came back at 61%; pray for wisdom and for healing.
Prayers for
Rebekah
:
"We have a few very definite prayer requests for Rebekah's g-tube surgery. First, please pray that Rebekah will not get sick or come down with an infection before, during or after her surgery. Second, please pray for wisdom for the doctors as they complete the g-tube and Nissen procedures. Third, please pray for quick healing and recovery time for Rebekah. Lastly, please pray for our family as we are apart while Rebekah has her surgery, and for Grammy while she is here with the boys. Thankfully, the doctors are projecting no more than a week if everything goes well."
Jaxson
will be having surgery on Friday; please pray for him this week!
I will finish this update tomorrow asap.