This is the rest of the update that I didn't finish from yesterday. Make sure after you go through this one, to check the last two posts: the first half of my update, and Deena's update on our Angel Families. Thanks for praying!
Kate
will begin her new chemo treatment on Monday. This will be a long and difficult time of isolation and strong chemo and radiation. Please keep her and her family in your prayers, and pray for a healing miracle! (Also on her website is info about the fundraiser for Kate to be in Karen Kingsbury's novel.)
Remember
Maddie
in your prayers, she is still suffering greatly from seizures with no relief.
Keep praying for
Rebekah
as she recoveres from respiratory issues; she is home but still needs prayers!
New link for
Tripp's
blog!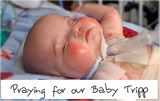 Jaxson
is in the PICU with lot's of breathing problems. Pray for him!
Say some extra prayers for
Jonah
and his momma this week. Send some encouragement too. And don't forget Jonah's EB Auction!
This one was posted on
Lindsay's
blog, and I wanted to pass it along:
This is
Lilliana
. She was born with a sever congenital heart defect, and is in the hospital now not doing well. Please add this little girl to your prayers!
This is
Heather
. She and her husband are adopting a beautiful baby boy from Taiwan: Nathanael. He is just recovering from penumonia. Please add this family to your prayers!