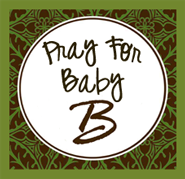 Please add Baby B to your prayer list. He has 4 holes in his little heart, and several other issues. Please lift him up!
OTHER UPDATES:
Baby
Logan
made it through his heart surgery just fine, no complications!
Kayleigh's
surgery had to be postponed yesterday; she developed some sort of infection. Please pray for her quick healing so they can go forward with the surgery.
Please continue to pray for
Veiyah
; she is still having stomach issues, and now they suspect she has a "brain issue" which is causing her eyes to cross and have suspected "seizures". Please pray for this little one!
Ashley
needs extra prayers, she is still not doing well.
As a side note, if YOU have any prayers requests you would like added to the website, please leave a comment with the information, and we will gladly add it. Thanks for praying!